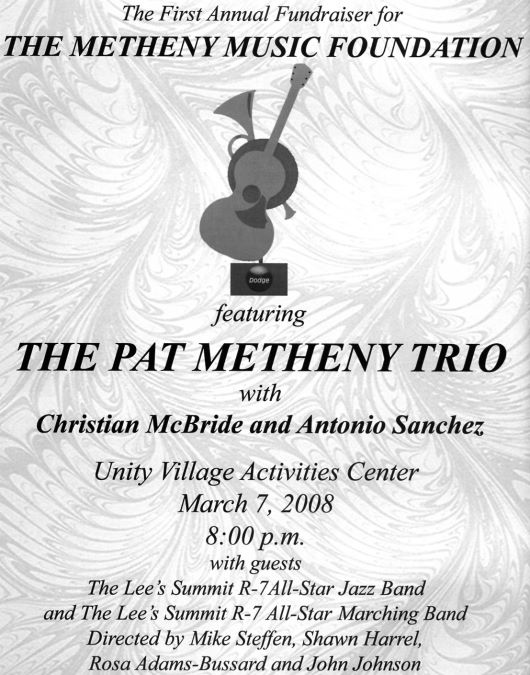 June 1, 2018 9:26 pm
On Friday, March 7, 2008, the Pat Metheny Trio — with Pat on guitar, Christian McBride on bass, and Antonio Sanchez on drums — performed to a capacity crowd at the Unity Village Activities Center near Lee's Summit, MO. Lee's Summit is the hometown of Pat and his brother Mike, who joined the trio for several selections.
Also featured on this first major fundraiser for the new Metheny Music Foundation was an all-star Lee's Summit high school jazz ensemble that entertained guests at the pre-concert reception, and an all-star marching band from the Lee's Summit school district that opened the show with a medley of Pat's music arranged by Mike.
According to Foundation board chairperson, Kathy Smith, "The entire event was a big success."
And after the show, Pat added, "Everything went really well. Christian, Antonio and I had a great time."
All proceeds after expenses will go toward the Foundation's scholarship fund which, for now, will help students from Lee's Summit attend the summer music camps of their choice. (See "Scholarships.")
"But who knows," said board member Mike Metheny, "maybe someday we will be able to send someone to Julliard."